Robot lawn mowers realize autonomous, efficient and precise lawn maintenance through intelligent navigation, path planning and mowing operations.
ANON E1800 Electric Remote Control Robot Lawn Mower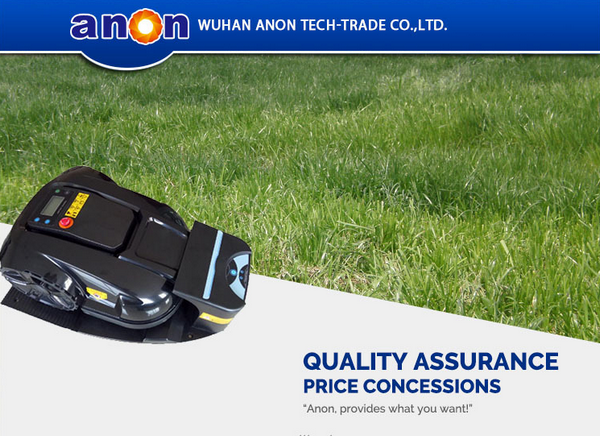 Rain sensor – the robot will stop working and return to the charging station when it senses rain or high humidity;
Wifi APP control – WIFI APP is available for IOS and Android phones, more convenient for setting and remote control;
Automatic charging – when the battery is low, the robot will return to the charging station;
Smart Spiral;
Go straight;
Anti-theft;
Lift and Tilt Sensor – The robot will stop working when it is lifted and tilted;
Gyroscope;
Intelligent cutting height adjustment;
Raised sensor;
LED display operation support;
Waterproof;
Touch sensor;
Time setting system;
Emergency switch;
Set password.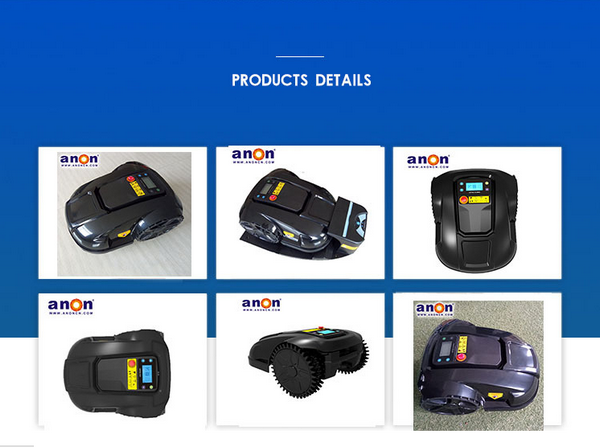 Robotic lawn mowers are equipped with multiple sensors and navigation systems,
Ability to accurately detect lawn boundaries and avoid obstacles.
It can carry out intelligent path planning according to the shape and size of the lawn,
Make sure the lawn is evenly mowed.
It will not cause disturbance to the surrounding environment and users.
At the same time, it does not need to use fuel, has no exhaust emissions, and is more environmentally friendly.
Specification
Model
AN-E1800S
AN-E1800T
AN-E1800T
Coverage(for once charging)
300m2±20%
500m2±20%
700m2±20%
Working capacity
1000m2±20%
1500m2±20%
1800m2±20%
Virtual wire Max length/diameter
600m/0.5mm
Standar virtual wire length/diameter
100mm/0.5mm
Mower Size
52*39*27cm(LWH)
Charing station size
60*50*17cm(LWH)
Rated Power
85W(aerage)
Noise
≤60dB
Qty for cutting blades
3pcs
Cutting height
2.5-5.5cm
Cutting width
21cm
Cutting speed
35m/min
Blades rotate speed
3000rpm
Hill capability
30 degree Max slope
Max ambient functioning temp.
40 degree
Average working time
2-3hours
2-3hours
3-4hours
Type of battery
Lithium
Battery capacity
4.4Ah
4.4Ah
6.6Ah
Carton packing size
79.5*51*31cm(LWH)
Gross weight
19kgs
Net Weight
16kgs
Charing time
≤2hours
≤2hours
≤3hours
Warranty
2years
The robot lawn mower uses smart charging technology, and when the battery is low, it will automatically return to the charging dock for charging.
During use, it can intelligently adjust the working time according to the lawn area and grass conditions to save energy to the greatest extent.
ANON Our Services